In the News | Reviews
Excepts and photos reprinted courtesy of the Green Bay Press-Gazette and WeAreGreenBay.com.
Daddy D re-invents '60s again
By Warren Gerds | Green Bay Press Gazette
Rated 4.5 (of 5) stars
Stuck in the Sixties is the eighth time Daddy D Productions has put on a '60s theme show, but the Green Bay entertainment group is nowhere near stuck in a rut. New material and new faces take care of that.
The people at my table kidded that they wanted to read this review to find out whether they enjoyed the show. Hey, folks, you enjoyed the show quite a lot. The singing is often splashy, the costuming of the women flashy and the comedy sometimes outrageously funny. It's a lively night out with a bundle of memorable songs, and more.
The show opens with singers nailing songs (getting them right) one after another. It's a nice sequence of blues and soul songs that sets the tone of quality for the rest of the show.
Darren Johnson and Daddy D Productions have a knack for finding young talent. New in this show is Maddie Forrest, a 17-year-old junior at Bay Port High School, who has a smooth, comfortable stage presence. Maria Sausen, a Green Bay Notre Dame Academy student, returns as a veteran. They add a youthful perspective, with familiar songs sung young – for instance, "Georgia" (Sausen) and "One Tin Soldier" (Forrest).
For this show, Woody Mankowski is aboard to wrapping his voice into blues/soul songs and apply moody shadings to many songs (his and others') with his saxophone. The beaming Shelly Emmer, booming Darren Johnson deliver the vocal goods all over the place, as usual.
Doug Dachelet has outstanding performances in "Whiter Shade of Pale" and "Town Without Pity," to name just two of his featured songs. Dachelet's comedy routine as the Great Flydini is outrageously funny. Items magically appear from a part of his clothing referred to in his name. Darren Johnson's routines range from clever to oh my goodness. But they're fun.
Sound man Dan Collins' use of soundtracks enhance the show, starting with the show opening John F. Kennedy's "Ask not what you're country can do for you…"
There's lots of good stuff in this production – the women being clothes horses, for instance – but I want to focus on three sequences.
One. A soundtrack for a Speedy Alka Seltzer commercial leads into a hilarious section with Doug Dachelet and Shelly Emmer dressed and bewigged as Sonny and Cher, who are under the weather. The hit song, "I Got You, Babe," becomes "I Got Flu, Babe," with all the lyrics fitting in with how bad off they are.


Two. Playing guitar and singing, Jeff Hinnendael's take on Bob Dylan's "The Times They are a-Changin'" takes on added meaning with sound bites from the era – Martin Luther King's "I had a dream," Walter Cronkite's "Kennedy is dead" and Neil Armstrong's "One small step for man, one giant leap for mankind." The whole of the song is fabulous.


Three. Jeff Hinnedael is featured in the next song, "My Guitar Gently Weeps." He plays and sings with a certain intensity, while Darren Johnson joins on guitar only at first and Bob Balsley lays soulful lines on a third guitar. Jeff Hinnendael ends at the drums, and Darren Johnson takes over the vocals and powers his voice to overdrive.
Review reprinted courtesy of WeAreGreenBay.com
Daddy D serves full plate with Christmas show
By Warren Gerds | Green Bay Press Gazette
Rated 4 (of 4) stars
Yes, the massive "Hallelujah Chorus" can be done with gusto by six voices and a four-piece band.
The finale to Daddy D Production's Christmas show is one of many points of wonder in this year's production.
Dimensions range from Mary (Laura Asma) softly, solemnly assessing her role in "Breath of Heaven" to seedy Swamp Guys (Darren Johnson and Doug Dachelet) cutting it up in a Santa-infused version of "The Devil Went Down to Georgia" along with a fiddler (Asma again) playing madly.
"Sleigh Bells" is done a cappella, with Shelley Emmer, Molly LeCaptain and Asma joined by guitarist Bob Balsley. Sweet.
The band—Barb Hinnendael, keyboards; Ryan Sette, bass; Kurt Risch, drums; Balsley, guitar; and Asma, fiddle—flies in Trans-Siberian Orchestra and other solo sections. Pieces featuring Balsley and/or Asma enrich the listening.
The show takes on a lot of musical styles and eras, traditional and contemporary. As always, there's a salute to military personnel, this time with "I'll Be Home for Christmas."
Daddy D reaches out with Country Jamboree
By Warren Gerds | Green Bay Press Gazette
Rated 4 (of 4) stars
Live performance is in the moment. Here's the telling moment from the recent "Country Jamboree" of Daddy D Productions: It's the finale, and a female military veteran in the audience rises during the song "God Bless the USA" and the line "And I gladly stand up, next to you and defend her still today." Other audience members in front of her, not seeing what she has done, rise.
This is not corny, folks. It's an appreciation of singers Darren Johnson, Shelley Emmer, Doug Dachelet, Andy Bain and Molly Le Captain and the band of Barb Hinnendael, keyboards; Bob Balsley, guitar; Ryan Sette, bass; Jerry Pansier, steel guitar; Jim Kirkpatrick, drums; and Dan Collins, sound.
The show features classic country songs and around-the-bend and sometimes earthy humor from Skip Church and The Creepy Single Guy (Johnson) and Grandpa Jones (Dachelet). Band members shake their heads at the barnyard animal sounds and barnyard jokes that erupt from Skip Church, Sunday morning announcer on radio station MOO.
The guys feign heart attacks in hopes of getting cardiopulmonary resusetation from women in the cast, or in the audience. "You're gonna die" is in the majority.
Songs roll, with the band playing merrily.
The show features a lot of singing from Johnson, Dachelet and Bain, starting with the snappy opener with an auctioneer's heat, "I'm Sold on the Lady in the Second Row."
Other highlights:
Dachelet and Bain, as The Blues Brothers, singing "Stand by Your Man" to a woman from the audience.
Johnson changing voices from the wild "Muleskinner Blues" to the smooth "Neon Blues."
Dachelet ranging from falsettos in "My Maria" to big voice in "They Call the Wind Mariah."
Emmer in lots of lovely songs, starting with the sweet "Strawberry Wine" and including "Coat of Many Colors."
Le Captain, a newcomer mostly featured as a soloist, in the dramatic "Jolene."
The troupe is playing in a variety of places coming up. It seems to adapt to places as it seizes moments.
Daddy D lights up 'Golden Oldies' with flair
By Warren Gerds | Green Bay Press Gazette
Rated 4 (of 4) stars
It's been seven months since Daddy D Productions put on a new, multiple-night show. Hunger was in the air on opening night Friday —from the show troupe and its audience —and the result was a particularly refreshing evening.
Chances are, this will happen again as "The Golden Oldies" plays out its run because the mold has been cast:
Troupe leader Darren Johnson is in his element. With his big, pliable voice, he fashions the gutsy "What I Say" with a dusting of Ray Charles' style. He fashions the tender "How Deep is the Ocean" — coming off his tradition salute to service men and women in which he owns the audience —with a dusting of Frank Sinatra's style. He introduces Prof. Wiener Schnitzel, one of is out-there characters, who predicts outrageous turns of events by 2012.
The show is about songs of the 1950s and '60s, so much of the music is harmonious "girl group" and "guy group" stuff —right up Daddy D's alley. The troupe has pop music savvy.
The women wow. Laura Asma, Shelly Emmer and Anna Snyder radiate songs, not just sing them. They re-vitalize the essence of hit groups and get a chance to be Marilyn Monroe times three with a guy from the audience. Whether singing lead, harmonizing, sliding along in choreographed moves or connecting with the audience, these three have "it."
Other goodies are Andy Bain wearing "What a Wonderful World" in two ways, as the gravelly Louie Armstrong and a clear balladeer, and Doug Dachelet, introducing Frankie Valli with a few lines from "The Jersey Boys," then flying in falsetto in "Sherry."
Helping set all the grooves is the fun-loving band: Barb Hinnendael, keyboards; Bob Balsley, guitar; Ryan Sette, bass; Kurt Risch, drums; and Seth Jorgensen, sax.
Daddy D has a knack of making songs of the past now. The troupe arranges songs to its lineup, plus Johnson invents each time he sings. The presence of Asma —early twentysomething and clued in —helps make songs and the "girl groups" bright, shiny and feel like today.
Daddy D Productions' Classic Country revisits oldies
By Warren Gerds | Green Bay Press Gazette
Rated 4 (of 4) stars
The country theme fits the log-lined atmosphere of Black Forest Dining & Spirits. The wood enhances the troupe's sound, its bread and butter.
The men supply mighty moments in solos. Among them are troupe leader Darren Johnson in "Georgia on My Mind," Doug Dachelet in "How Great Thou Art" and newcomer to the troupe but not to performing Andy Bain in "My Woman, My Woman, My Wife."
The three also are fun in prison jumpsuits singing, "He's in the Jailhouse Now" and other behind-bars songs.
The women offer big moments, too. Included are Shelly Emmer leading "Operator Get Me Jesus on the Line," Anna Snyder dressed for and digging into "I'm Looking for Something in Red" and Laura Asma, when not singing, playing lots of fiddle such as for the roaring "The Devil Went Down to Georgia" with Johnson. The band is strong, with guitarist Bob Balsley creating his trademark add-on sections for "Movin' It on Over."
Time and again on opening night Friday, cheers followed songs.
Humor includes the off-the-wall Skip Church, a countrified version of Carnac the Magnificent and comic laments from "Hee Haw."
Emmer is a comedienne. She plays on being 7 months pregnant by starting a monologue with, "I'm here to talk about protection," and takes a delightful trip to the punch line.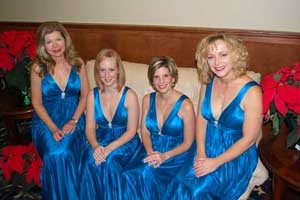 Daddy D's Christmas at the Grand thrives on harmonies
By Warren Gerds | Green Bay Press Gazette
Rated 4 (of 4) stars
Singing often is splendid in Daddy D Productions' variety-packed 2009 Christmas show.
One highlight is "Silver Bells," sung in elaborate layers with featured singers Darren Johnson (troupe leader), Shelly Emmer, Anna Snyder, Doug Dachelet and Laura Asma joined on vocals by keyboardist Barb Hinnendael and guitarist Bob Balsley.
Any time Emmer, Snyder and Asma join in song, rich harmonies ensue. Sometimes it's in jazzy ways, sometimes with Celtic touches (as percussionist Kurt Risch plays an Irish bodhran drum) and sometimes with Asma doubling on violin.
Johnson unleashes "Mary, Did You Know?" with his muscular voice.
Dachelet wraps his baritone around an extended version of "O Holy Night" with growing power.
The song is one of many sacred songs that are woven into the show. Mixed in with light, novelty and playful stuff, the reverent songs give the audience a full package overall.
As in every Daddy D show, Johnson also remembers veterans. Saturday's audience learned this is not a casual gesture. Johnson mentioned a friend and a Purple Heart, then melted to tears.
In a skit on a much lighter note, Johnson and Dachelet play language-mangling hunters dressed in blaze orange talking about their gift-giving "prowess" before breaking into a surprise dance.
Johnson and Emmer also offer a glance at their 10-year tenure as teammates in shows — Johnson with bluff and bluster, Emmer with flashes asa comedian and both singing in their distinctive ways.
The band—including John Kelley, violin, and Jeff Hinnendael, drums, in most performances; Ryan Sette, bass; and Seth Jorgensen, saxophone—adds strong backup, a potent instrumental piece and individual solos.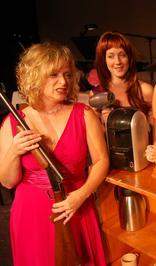 Favre song caps colorful Daddy D show
By Warren Gerds | Green Bay Press Gazette
Rated 4 (of 4) stars
As in the past during football season, Daddy D Productions in "Girls Night Out has fun with Brett Favre – cementing success for the already entertaining show.
Previously, Favre was the hero. This time, the troupe does a take on Midnight Train to Georgia," with musical comedienne Shelly Lahti scoring at will in satire.
Keep the melody in mind for such lines as, "Green Bay proved too much for the man, So he's leaving the life he's come to know... Said he's going back to find the simpler place in time." There's stuff about "retiring," cheeseheads, taking the midnight plane to Minnesota and merrily onward. A Vikings fan at my table couldn't help laughing, too. Funny is funny.
Daddy D always does something patriotic. This time, a slide show reminding us of military personnel and separation enhances Laura Asma's touching performance of the Anita Baker song, "You Can Reach Me."
Emmer, Asma and Anna Snyder (in blue hair for the story) twice brighten medleys, first of songs of The Supremes and then of R&B supernovas, anchored by the song "Lady Marmalade." Leader Darren Johnson's impressive vocal range flips from the falsetto of young Michael Jackson to the growl of David Clayton Thomas. His loose-cannon humor keeps everyone on his or her toes, notably singing comedy cohort Doug Dachelet. Emmer is radiant throughout, particularly in the sweetly comic "Latte Boy."
Daddy D strikes 'Gold' with '50s musical revue
By Warren Gerds | Green Bay Press Gazette
Tantalizing touches pour appeal into Daddy D Productions' latest excursion into the 1950s, "'50's Gold." Fun hits, sweet slow tunes and good ol' rock 'n' roll zest figure into the show, seen in a Wednesday matinee performance attended by two tour bus groups plus other folks.
The story, told in flashback, is filled with nostalgia, romance and comedy. Singers Chip (Darren Johnson) and Dale (Doug Dachelet) want to break into the big time with their Chip 'n' Dale's All-Male Revue by adding two more singers. Two women applicants end up dressing as guys to join them.
The lite story serves its purpose—giving the singer-dancers characters so the songs they sing have meaning. Big pluses include:
The sweet harmonies of Laura Asma, Shelly Emmer and Anna Snyder from the first notes of "Sincerely" through every time they team as a trio. Emmer in two completely different knockout numbers, the gorgeous "Old Cape Cod" and the explosive "Great Balls of Fire."
Dachelet and Johnson working off each other in goofy comedy and such back-to-back songs as "Lonely Teardrops" and "Only the Lonely." Dachelet can work in Roy Orbison's ballpark, and Johnson is ever the chameleon with shadings of his voice.
The band supplying grace and energy, with bundles of expertise on hand in Bob Balsley, guitar; Barb Hinnendael, keyboards; Kurt Risch, drums; and Ryan Sette, bass. Balsley supports Asma with care in a violin solo and sets the tone for the band's colorful featured instrumental.
Snyder wailing the blues tune, "Mama, He Treats Your Daughter Mean." Everybody pulling out all the stops for the do-wop wonderful "Duke of Earl."
Toss in period costumes, wigs, a pause for patriotism, giggles, dance moves and understandable lyrics, and it's another nice Daddy D show.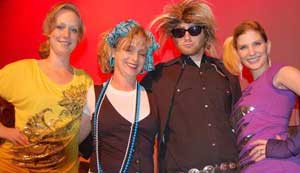 Daddy D trip to '80s lively, likable
By Warren Gerds | Green Bay Press Gazette
Rated 3 1/2 (of 4)
Parts of Daddy D Productions' latest original show—songs and stuff from the 1980s—are a whole lot of fun: A nerd and a gonzo guy get in a rapture about heading out on spring break, and out comes the Beach Boys' wonderful "Kokomo." The nerd (Shawn Connelly) "dances" in a hilarious rhythm, while the frizzy-haired gonzo guy (troupe leader Darren Johnson) grooves on his own.
The Sweeney Sisters return to their alma mater to entertain 10 years later (lying by 10 years) and do loopy, giddy send-ups of "We Are the World," "Maneater" and more. Anna Snyder and Shelley Emmer romp, with Emmer soaring as a comedienne.
"The Devil Went Down to Georgia" flashes extra talents as Connelly sings and Laura Asma lets fly on the fiddle. Johnson tosses in a song with meat for his remarkable voice, and he digs into "If I Could Just Hold You Again."
The band—Jeff Hinnendael, drums; Ryan Sette, guitar; Adam Bunn, bass; and Dr. Stephen Asma, keyboards—spans the pop tunes nicely and is featured in such instrumentals as the creamy theme from the movie "Chariots of Fire."
Multimedia bits include flashes of MTV, the full "Thriller" at intermission and a look at the cast in the '80s ranging from a photo of Johnson in a tux for a prom to nothing for Connelly, who says he probably was being nursed. Pick an era, and Daddy D is entertaining.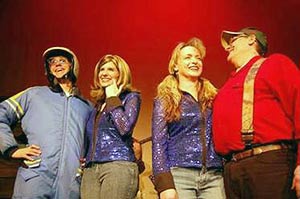 Classic Country strikes a chord
By Warren Gerds | Green Bay Press Gazette
Rated 4 (of 4)
Darren Johnson and a countrified Daddy D Productions lineup has a particularly entertaining show going in "Classic Country." A lively audience that cheered practically every song and skit on opening night Friday added oomph. The show opens in high gear with "Rocky Top" and continues with zip from there.
For a sample of the variety, here's a winning sequence:
After a comic bit as NASCAR types, Shawn Connelly as bit dim racecar driver and Doug Dachelet as a pit commentator romp through "Beer Run."
Johnson strolls out as a scruffy guy pushing a broom to drawl-sing the spoof, "King of the Road."
Anna Snyder and Dachelet bicker a bit as a live-in couple to set up "You're the Reason Our Kids Are Ugly."
Changing pace, Shelly Emmer pours on glamour in a lovely gown as she croons "You've Been Talking in Your Sleep."
Johnson returns as buck-toothed Skip Church, the Sunday morning drive time DJ on WMOO Radio, No. 1 in Krakow. Out from the astounding character fly hilarious jokes, stories and rooster squawks.
In the band are Ryan Thompson, who is nimble on guitar and mandolin and in song; Ryan Sette, bass; Jeff Hinnendael, drums; and Jeni Funk, keyboards.
The ensemble scores with good stuff in country songs of 30 or more years ago—corn, love, dance zest, melancholy, comedy, faith, harmony, warmth, fun, heartbreak and more.
Big pluses are Johnson and Thompson for their versatility and Connelly for his flair for building a story into a song, such as "Kaw-liga."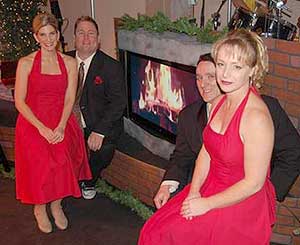 Daddy D fills stocking with variety
By Warren Gerds | Green Bay Press Gazette
3 1/2 stars (of 4)
Here's a sequence in Daddy D Productions' 2008 Christmas show: Edith and Archie Bunker, with help from Meathead and daughter Gloria, take turns reading 'Twas the Night Before Christmas, a guitar-voice medley sung a la Willie Nelson refers to at least a dozen holiday tunes; two yahoos dressed in blaze do a rap on ice fishing; and that's followed by the reverent O Come All Ye Faithful and the lighthearted Santa's Got a Brand New Bag.
Topping the cleverness are the yahoos, played by troupe leader Darren Johnson and Doug Dachelet. One of their bits is a turn on The Little Drummer Boy, with new lyrics starting with, "Run, they told him, Barack Obama." The song is done in "up nort'" accents.
Shelly Emmer and Anna Snyder are a lot of fun as the ding-a-ling Sweeney Sisters from Saturday Night Live doing a ditzy lounge act of Christmas tunes.
Serious songs are delivered with luster. Johnson is powerful in Mary Did You Know? Dachelet's formal tenor graces Venite Adoremus Dominum. Emmer adds soulfulness to All I Want for Christmas is You. Snyder nicely offers O Come All Ye Faithful.
Blending in in all sorts of ways are Barb Hinnendael, keyboards (including her bright take on Go Tell It on the Mountain); Bob Balsley, guitar (with his trademark layered, jazzy pieces; Eric Snyder, bass (and comedy bits); and Jeff Hinnendael, drums.
Vocal teamwork abounds in harmonic duets, trios and quartets. Songs of different styles are sometimes blended, including the show-closing Joy to the World, done as a straightforward hymn and as the rousing Three Dog Night rock song.
---
Daddy D's Tailgatin' in Green Bay thrives on fan spirit
By Warren Gerds | Green Bay Press Gazette

Buddies are about exchange two Green Bay Packers season tickets for $2,000 – as part of a girlfriend's ultimatum. Packers tickets today mean no friendship tomorrow — "How do you feel about that?" the ex-holder says. Eagerly taking the tickets, the buddy says with a James Brown screech, "Yow! I feel good," and breaks into the funky song.
It's one of the hilarious scenes in Daddy D Productions' fan-flavored Tailgatin' in Green Bay.
Here's a minireview from first timers Don and Donna Caan of Sheboygan: Everybody is talented. Troupe leader Darren Johnson is amazing to watch for all his vocal, physical and comedic moves. The show is unusual (for its originality), entertaining and goofy.
This is one of the best Daddy D shows!
The story revolves two couples – one dating for 15 years (Darren Johnson and Shelly Emmer), the other in a mail-order marriage, by way of Poland (Doug Dachelet and Anna Snyder). The guys—with yahoo accentsare Packers zealots, and they're usually in trouble for it.
Songs connect to the story, sometimes like a Hail Mary pass. Some of the best stuff:
Johnson ripping through "All My Rowdy Friends" at 1,000 watts. Dachelet wired up in "I Feel Good." Snyder, first telling a comically romantic story of her character's arrival from Poland, then sweetly singing "Help Me Make It Through the Night." A sunglasses sequence. First, Emmer and Snyder pour out Motown songs and moves, then Dachelet and Johnson (especially) heated up as the Blues Brothers in "Soul Man." The beautiful romance in an Emmer-Johnson duet, "Against All Odds (Take a Look at Me Now)."

The band—Bob Balsley, guitar; Barb Hinnendael, keyboards; Jeff Hinnendael, drums; Eric Snyder, bass—in the energized Act II opener with 'R-O-C-K in the USA" at its heart.
A cooking grill that "heats" with flames showing on a TV set in it.
The show includes video footage that captures the essence of Green Bay on the street and in on-field heroics.
There's even loopy stuff on hunting, such as "The Second Week of Deer Camp."
The show has "us" written all over it.
---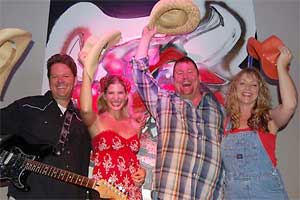 Variety fuels Daddy D's Hot Country
By Warren Gerds | Green Bay Press Gazette
3 1/2 stars (of 4)

For a sampler of solid country music, past and present, Daddy D Productions' Hot Country does the trick.
The original production by the local troupe is filled with spirit—and even a super-wry tease of the fellow who just can't seem to put jersey No. 4 in the closet.
A dad retires from his job in Green Bay after "17 years on the line" (ahem, Mr. Favre) to pursue his dream in a Nashville nightspot. The story turns out touching. The story is important mainly because it gives the performers a chance to develop characters and give the meanings of their songs a place to hang feelings on.
Most impressive is "Life in a Northern Town." With Darren Johnson and Shelly Emmer playing stars in Nashville and Doug Dachelet, Anna Snyder and Mike Brand as a dad, daughter and son, respectively, in Green Bay, moving and meaningful lines are passed between the singers. This troupe has the presentation of certain special songs down to an art.
The band is strong in support: Eric Snyder, bass; Tom Reynolds, guitar (nifty in solos); Samantha Smith, keyboards (sharing duties with Dan Rafferty); and Joel Lahti, drums.
Gags, video clips, goofy costumes, heartfelt moments, comedy routines, dancing, visual effects, instrumentals and more are part of the action. There's a lot of bang—though sometimes just a pop—along the way.
» Complete review: Green Bay Press Gazette
Awesome cast hails from the '80s
By Warren Gerds | Green Bay Press Gazette
Perfect 4 stars (out of 4)!
Daddy D Productions is so versatile that even the chefs at the SC Grand Dinner Theatre get into the act in "The Awesome '80s" with a comical bit when they detail the dishes before the show.
Visuals abound, including a Pac Man field on the stage, bright colors in the backdrop and special lighting, an array of (sometimes wild) costuming, and clips from iconic movies such as "The Breakfast Club," "National Lampoon's Family Vacation" and "Top Gun."
Singers Darren Johnson and Doug Dachelet double in funny comedy scenes. First, they're beefy Hans and Franz in "Pump Me Up." Another time, they deadpan a Bartels and James wine cooler commercial.
Bass player Eric Snyder steps from the band to re-create a David Letterman show, catching Letterman's speech patterns and all. On the "show" are Paul Shafer (keyboardist Dan Rafferty), Bill Murray (Johnson) as "Caddyshack" groundskeeper Carl Spackler and President Ronald Reagan (Dachelet) doing the "Top 10."
A sampler of prime moments: Shelly Emmer's sweet handling of "I Will Always Love You" and, dressed as Madonna, "Like a Virgin;" the wide span of Johnson's voice (and characters), including rock anthem "Wanted Dead or Alive;" Dachelet's making a story song of "It's Still Rock 'n' Roll to Me;" Rafferty in a tease of Michael Jackson and "Beat It;" Anna Snyder, new to Daddy D but comfortable on stage, in the achy "Total Eclipse of the Heart;" and guitarist Dennis Panneck rocking through "I Fight Authority, Authority Always Wins."
Teamwork abounds in The Manhattan Transfer's "Boy From New York City" and the band's segment as the Stray Cats.
The performers' affinity for the '80s — that most are products of — adds a spark to this show.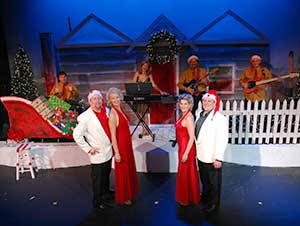 Packers pieces spice up Daddy D show
By Warren Gerds | Green Bay Press Gazette
Perfect 4 stars (out of 4)!
Toward the end of Daddy D Productions' A Grand 'Snowed In' Christmas, already lively in the first place, comes a set that captures the spirit of what's going on Green Bay to a T.
First, singer Doug Dachelet and troupe leader Darren Johnson, dressed in blaze orange hunting outfits, sing a song from West Side Story, playing with words. It's the beautiful "Maria," and it's about illustrious quarterback Dan Marino and how the Packers' Brett Favre has surpassed the records of "Marino, Marino, Marino."
Joining Dachelet and Johnson are Shelly Emmer and Holly Terrien-Rottier to read a famous story, using back-woods accents: "'Twas the Night Before Playoffs." It's about hunkering down in front of the TV, with "the beer chilled with care," to soak up the excitement from Favre and a bunch of star Packers players used in rhyme.
Surprises and some masterful performances lift this production, while it still presents "straight" material. Dachelet, for one, sings "O Holy Night" reverently in front of set of a snowy cabin with smoke wafting from its chimney.
A surprise is a bit drawing on David Letterman, featuring Eric Snyder coming out from the band to do a top 10 list and an interview with Santa Claus (Johnson, in a quirky comedic caper).
Masterful is the four singers singing four popular Christmas songs at once. First, they sing in aggressive ways. Then Johnson calls for a truce, and the four songs are sung sweetly — still all at the same time.

Masterful is guitarist Bob Balsley performing "Three Kings." He sings, then layers in jazz-pop guitar elements, in a way making a recording on the spot. Talk about spontaneous creativity.

Adding to the live feel are music director Barb Hinnendael on keyboards and Jeff Hinnendael on drums.

Favre/Marino bit part of fun in Daddy D's comedy
By Warren Gerds | Green Bay Press Gazette
3 1/2 stars (out of 4)!
Daddy D Productions' new "Broadway: Comedy Tonight" answers a question: How can Green Bay Packers quarterback Brett Favre be worked in a timely way into "West Side Story"?
Two singers dress in blaze orange as yahoo Packers fans and sing "Green Bay West Side Story." The classic musical's lovely "Maria" becomes "Marino," as in Dan, the legendary quarterback Favre is surpassing. Out come such lines as, "All the records will belong to Brett … We want Brett to pass Marino, Marino, Marino."
This show takes a shotgun approach, hitting everything from a bit of cross-dressing (in a grass skirt and a coconut "bra") to straight-on, powerhouse singing.
Veteran performers soar — Johnson in the show-stopping "Bring Him Home" from "Les Miserables," Dachelet in "Some Enchanted Evening" from "South Pacific" and Rita Baretta (so strong of voice she sometimes overpowers the sound system) in "As If We Never Said Goodbye" from "Sunset Boulevard."
Newcomers have colorful moments — Kelly Haddad in "Goodbye Until Tomorrow" from "The Last Five Years" and Shawn Connelly in "Puttin' on the Ritz" as a send-up with the creature from "Young Frankenstein."
Bob Balsley of the band adds a jazzified guitar-voice solo of "On Broadway." Keeping things going are music director Barb Hinnendael on keyboards, Jeff Hinnendael on drums and Ben Moore on bass.
Teamwork especially shows in "South Pacific" scenes — the guys in "There Is Nothing Like a Dame" and Baretta and Haddad in "I'm Gonna Wash That Man Right Outta My Hair."
Overall, the key words are variety and versatility.
Daddy D hits stride in Class Reunion
By Warren Gerds | Green Bay Press Gazette
4 stars (out of 4)!
Among many highlights in Daddy D Productions' 1950s Class Reunion, two tailgating/bumpkin Packers fans sing Brat Fry Love to the tune of the Everly Brothers' Bye Bye Love. The clever turn of lyrics comes on the heels of one of them showing—with mind-bending math—that 13 times 7 equals 28. He "proves" it by dividing, multiplying and adding. The jolly bits are part of Daddy D's best show yet. It's loose, comical and quite musical.
The revue sweeps through many lighthearted hits of the era—Chantilly Lace, Lollipop, Purple People Eater, Who Put the Bomp (in the Bomp, Bomp, Bomp), among them. Over and over, it showcases solid harmonies by the three women — cast newcomer Laura Asma, Betsy Brand and Shelly Emmer. Among the treats: Dream, Pennies from Heaven and Sincerely.
Troupe leader Darren Johnson flexes his vocal prowess many times. A song is not just a song with him but a vocal landscape to color with his many voices. That happens in Smoke Gets in Your Eyes, a set of Buddy Holly tunes that includes That'll Be the Day and Come Softly.
Emulating Roy Orbison, Doug Dachelet takes on the high-flying Crying Over You and turns out a soaring winner.
Johnson and Dachelet team for fun as the bumpkin fans. Johnson takes on Jackie Gleason as Ralph Kramden of The Honeymooners, with bass player Eric Snyder joining as Ed Norton, for a fascinating, energetic skit.
For Silhouettes on the Shade, Johnson and Dachelet are joined by soundman Andy Lee and saxophonist Logan Dier for doo-wop action.
Asma, Brand, Dier and Lee are all early twentysomethings, so while the show sounds nostalgic, it has a youthful flair.
Master guitarist Bob Balsley plays and sings How High the Moon in the manner of legendary Wisconsinite Les Paul, complete with dazzling electronic effects. Barb Hinnendael heads the band on keyboards, with her son, Jeff Hinnendael, playing drums. Asma adds color to some songs by playing violin.
Some of the joy of this production surrounds Emmer, who is seven months pregnant. References abound, with warm humor.

Sensuous Senator feeds on saucy silliness
By Warren Gerds | Green Bay Press Gazette
The funny thing about The Sensuous Senator—aside from it being a silly farce—is there are some real-life politicians doing the same thing as its central character: making loud pronouncements about morality and fidelity, then getting involved in hanky panky.
At the height of the show, the senator ends up in bed with his nephew, clad in a pink robe, and two cuties in underwear. A snoopy reporter from the National Intruder is snapping their photo. Performances are a bit hammy, the script a bit corny (and talky at times), the set a bit make-do. Still, at the core, the show is lively fun. Daniel Onkels plays the senator of the title.
The senator feigns sadness as his wife (Betty Roth) leaves their D.C. home for a weekend do-good project in Chicago. He immediately phones his secretary (Virginia Boren, who operates a restaurant in Bellevue), who can't make a rendezvous this evening (but shows up later). Next, he calls an escort service, which sends over a "companion" (Christina LaVicka).
Also showing up at the house are the senator's innocent nephew/congressman (MJ Marsh), a nearsighted congressional colleague (Mike Van Ryzin, who has acted for Green Bay Community Theater and Evergreen Theatre), the reporter (Sindee Kleckner) and a twitchy security guard (Tyler Evens).
Play review: A 'Little Shop', a lot of fun for Lawrence theater
By Warren Gerds | Green Bay Press Gazette
In some ways, the version of Little Shop of Horrors playing at SC Grand Dinner Theatre is needy. But audiences probably will leave loving it. The production by a local, hired-in troupe ends in a super-upbeat and exciting way. The show centers on Audrey II, a bloodthirsty alien plant that arrives at a Skid Row florist and plans to take over the world. Of course, everything is camp.
That includes the characters across the board: Seymour (Kevin Flogel, who directs), a nerdy clerk in the floral shop, and Audrey (Angela Zuidmulder), his naïve love who endures bodily mayhem from her sadistic dentist-boyfriend (Darren Johnson, who produces); the trampy Doo Wop Girls (Danielle Enderby, Molly LeCaptain and Erin Patchak); shop owner Mr. Mushnik (Brent Brayko); and multiple street characters played by Will Crider, Andy Lee and Courtney Younkle.
The hungry, growing plant is manipulated behind the scenes by Anna Beattie and voiced by Russ Lipinski. It's Lipinski who lights up the finale, "Mean Green Mother From Outer Space," with fantastic, R&B vocal firepower in the midst of the energized cast. His earlier behind-the-scenes voice work is vivid.
The Doo Wop Girls have a lot of zip, Johnson is intense in his wild-eyed "Dentist!" solo, Flogel appropriately twerpy and Zuidmulder part of something special: Audrey has come from the dregs, and she's a bit tacky and always abused. In the song Somewhere That's Green, she envisions a better place with Seymour. Zuildmulder sings this with touching yearning. Meantime, projected behind her is a slide show (of Beattie's creation) showing her with Seymour and two children in idyllic home settings of sweet, ordinary domesticity. It's a wonderful sequence.
Daddy D does The Rat Pack its way
By Warren Gerds | Green Bay Press Gazette
Near the end of The Rat Pack, Daddy D Productions leader Darren Johnson lets loose with My Way. Johnson's version has the kind of gusty singing Johnson is known for. It brings back a famous song his way.
Much of The Rat Pack brings back the songs of Frank Sinatra, Dean Martin and Sammy Davis Jr.—all pictured larger than life on stage.
Some highlights: Johnson wrapping himself into One for My Baby and One More for the Road, Doug Dachelet playing with the crowd in That's Amore, newcomer to the troupe Andy Rusch hitting the last note big in That Old Black Magic, the three men galloping through Fugue for Tinhorn from Guys and Dolls and Shelly Emmer purring as Marilyn Monroe in Diamonds are a Girl's Best Friend and teaming brightly with Johnson in All the Way.
The production has a slight jazz flavor, in part from the Mr. Big Note Band that backs the singers.
A lively spot is a section featuring Johnson imitating distinctive comedian Buddy Hackett. Dachelet and Johnson also stir up fun as a couple of Yoopers offering business advice to the Green Bay Packers.
One of the nice touches at the theater continues as chefs come on stage beforehand and detail in palate-appealing ways what has gone into the dishes on the menu.
Daddy D heads to Vegas, takes on The Rat Pack
By Warren Gerds | Green Bay Press Gazette

Daddy D Productions heads to Las Vegas and the famous clique that performed there in The Rat Pack" opening Friday at SC Grand Dinner Theatre. The troupe takes on the music of Frank Sinatra, Dean Martin and Sammy Davis Jr., along with Judy Garland, Marilyn Monroe and others.
"There is some topical and traditional Rat Pack banter," said performer Darren Johnson, who heads the troupe. "Buddy Hackett makes a pit stop, and a couple of Yoopers show up for what they thought was a Packers shareholders meeting, 'The Rat Packers.' "
Johnson's tunes include The Lady is a Tramp and a duet with Shelly Emmer in My Way. Emmer also sings Big Spender and Somewhere Over the Rainbow.
Doug Dachelet will be featured in Mambo Italiano and That's Amore. Troupe newcomer Andy Rusch will be featured in The Candy Man and Mr. Bojangles.
The four-piece Mr. Big Note band is led by Shawn Postell.
Storytellers has fun with oldies
Daddy D show will continue to get better with age
By Warren Gerds | Green Bay Press Gazette
3 1/2 stars (out of 4)
It's not until the final song, Queen's Bohemian Rhapsody, that the local troupe shows its full firepower of harmonies mixed in with individual bursts of color among the six out-front voices.

Before the meal, a chef takes the stage—a distinctive touch—to explain the details of what's in each entree and adds to the palate appeal.

The show finds the singers (supported by a four-piece band) playing characters who jump into songs at the drop of a line. The songs have a story to them, thus The Storytellers title.
Among the appealing moments of the show:
Darren Johnson in Vincent, which embraces the life of artist Vincent Van Gogh and his masterpiece, which is known by how the song starts: Starry, starry night.
Rita Baretta, Shelly Emmer and Erin O'Connell Patchak, in gowns, singing Diana Ross' Ain't No Mountain High Enough. Individually, they have solid solos as well.
Rob Evras hitting the high spots of Frankie Valli and the Four Seasons' Walk Like a Man.
Doug Dachelet, as an aging hippie/minister, conducting the wedding ceremony in a spoken-word version of All You Need is Love from "the great English philosopher, John Lennon." The transformation of Dachelet from a straight-laced tenor to playing free-flying characters continued to unfold.
---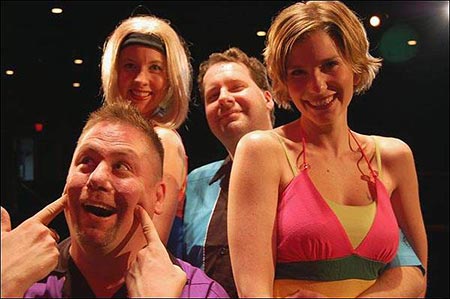 Quality Time rolls out at the SC Grand Dinner Theatre
By Warren Gerds | Green Bay Press Gazette
The concept of a dinner show you can take kids to rolls out this weekend as Daddy D Productions presents Quality Time Revue at SC Grand Dinner Theatre.
"It's made up of Disney favorites and songs most folks would remember from their childhood, and the whole musical portion will last just about an hour," said Darren Johnson, who heads up the local troupe.
This show is in the hands of Chad Lemerande and Holly Terrien-Rottier, who have performed many leading roles in the summer shows of Music Theatre of St. Norbert College. They picked out and arranged the numbers.
Selections include I'll Make a Man Out of You from Mulan (featuring Lemerande); Part of Your World (Shelly Emmer) and Poor Unfortunate Souls (Mary Eisenreich, who also plays keyboard) from Little Mermaid; The Bare Necessities (Johnson) from The Jungle Book; and Supercalifragilisticexpialidocious (Terrien-Rottier, who can say the word backward) from Mary Poppins.
Other musicals with songs in the show are Hercules, The Lion King, Winnie the Pooh, Beauty and the Beast and 101 Dalmatians.
"There are plenty of songs to sing along to," Johnson said.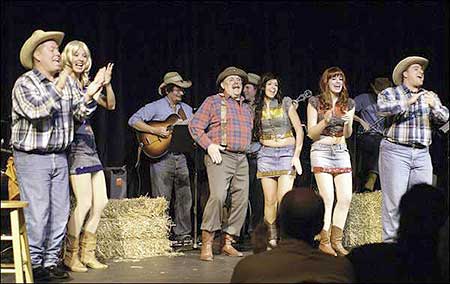 Daddy D's country show shows spunk
By Warren Gerds | Green Bay Press-Gazette
February 10, 2007 | 3 1/2 stars (out of 4)
A unique chapter in Northeastern Wisconsin entertainment has started on a lively note with Daddy D Productions' Bluegrass & Country: Salute to America at the SC Grand Dinner Theatre.
Led by Darren Johnson, the song/dance/comedy outfit is the theater's new house troupe.
What people have come to expect at the SC Grand Theatre continues with Daddy D Productions—a showcase of music put together by local talent, with bits of humor and a jolly atmosphere.
Some faces are familiar—Johnson and Shelly Lahti-Emmer from Frank's and Doug Dachelet, Rob Evras and Holly Terrien-Rottier from previous Daddy D shows elsewhere. Some faces are fresh—sisters Jamie and Kelsey Schmitz.
The show brings a tremendous talent out of the woodwork to play for a larger audience. Leading the band, Dave Sladek flashes 1,000-watt smiles as he nimbly plays banjo, Dobro, guitar and upright bass and sings. Sladek smartly directs the band of Mary Eisenreich, piano (featured in merry vocals); Justin Eisenman, guitar, mandolin and bass; Ben Moore, drums; and AJ Srubas, fiddle (featured on the speedy Orange Blossom Special).
High points for the women include a collection of Patsy Cline hits and I'll Fly Away. Dachelet stops the show with a death lament sung acappella, with the men super in the follow-up Swing Low, Sweet Chariot. Evras rouses the audience in God Bless the USA. Johnson applies his vocal muscle a number of times, especially in the quirky Mule Skinner Blues.
As in the past on the same stage, young performers fit comfortably in with veterans. This show has Kelsey Schmitz, 17, and Srubas, 18.
Daddy D updates madrigal dinners
By Warren Gerds
Green Bay Press Gazette | November 27, 2006
3 1/2 Stars (out of 4)
Instead of Renaissance music and costuming from a royal court, the Darren Johnson-led Daddy D Productions fast forwards to a contemporary style of madrigal dinner with its Christmas 'Back' at the Corner.
Harmony is a big plus with this outfit that's strong on experience. That's especially the case of The Carol of the Bells, tightly teaming Johnson, Angela Thielke Zuidmulder, Holly Terrien-Rottier, Douglas Dachelet and Emily Terrell Paulsen.
Other quick highlights: Dachelet's recitation of 'Twas the Night Before Christmas in the middle of a song, the women and Johnson singing Joy to the World two ways, guitarist Bob Balsley in a jazzy, super-sophisticated We Three Kings, Terrien-Rottier driving guys ga ga in a sexy Santa Baby and the troupe singing a candlelit Silent Night.
Backing are Balsley, Barb Hinnendael on keyboards, Ben Moore on drums and AJ Srubas on violin.
All this follows a routine that was found in the St. Norbert College Swinging Knights' madrigal dinners that were once popular—salad starter, a greeting and soup, caroling and music leading into the wassail (cider), main course (with the chef explaining the entrees) and dessert.
The staging is moved from the original Sports Corner shows. From a stage on side wall, tables fan out in a more sensible way. The place is decorated festively.
Daddy D off to good start with Broadway
By Warren Gerds, 3 1/2 (of 4) stars
There's another performance troupe in Northeastern Wisconsin. With this show, it's "official." Johnson was a mainstay performer in another troupe, the one formerly known as Frank's Dinner Theatre. Daddy D Productions is Johnson's baby.
Evening on Broadway is a cabaret-style show. It's glimpses of hit musicals through costumed songs and sometimes dance. Humor is hit and miss—and best when part of a musical's scene.
The most wowing number is Billy Joel's For the Longest Time from Movin' Out. Sensational harmonies burst from Johnson (in falsetto), Rob Evras (as lead) and Douglas Dachelet (low voice).
Emily Terrell Paulsen comes out to sing Tomorrow from Annie, only she's an aging star. Frumpy looking Anne Tique croaks, "I'm going to be 40 … tomorrow."
Paulsen is part of the zip when she, Betsy Brand and Erin O'Connell Patchak sing "Pick a Little, Talk a Little" from "The Music Man" and the troupe lets loose in song and dance (choreographed by Patchak) in the energized "Light at the End of the Tunnel" from "Starlight Express."
Live music is best, of course. This show completes that picture with band made up of Barb Hinnendael, electric keyboard; Jeff Hinnendael, drums; Dave Pufall, piano; and Bob Balsley, guitar (who's featured in "It Don't Mean a Thing If It Ain't Got that Swing").